Products
String instruments
In my studio you will find a fine selection of high quality string instruments. I restore old violins, violas and cellos with loving attention to detail and then offer them for sale. Thus I offer the possibility to buy a perfectly restored violin at a fair price. Each instrument is optimized in terms of playability and sound. Thus you have an exclusive and high-quality selection at your disposal. In my studio I offer you a wide range of string instruments - from student instruments to instruments for professional musicians, as well as rarities.

To ensure long lasting pleasure with a high-quality string instrument from my studio, please follow these recommendations:
Please wash your hands before handling the instrument.
After each use please remove rosin dust and sweat residue from the instrument and bow with a soft microfibre cloth
Avoid commercially available cleaning agents, as they often contain a certain amount of oil, which can enter hairline cracks or open glue spots and cause lasting damage to the instrument.
Avoid direct sunlight and never leave your instrument in a car.
Always keep the instrument in its case and in a suitable location with high humidity (40-60%).
When changing the strings, always lubricate the pegs with peg paste and the top saddle and bridge notches with soap or a graphite pen.
Arrange for your instrument to be serviced by the luthier once per year.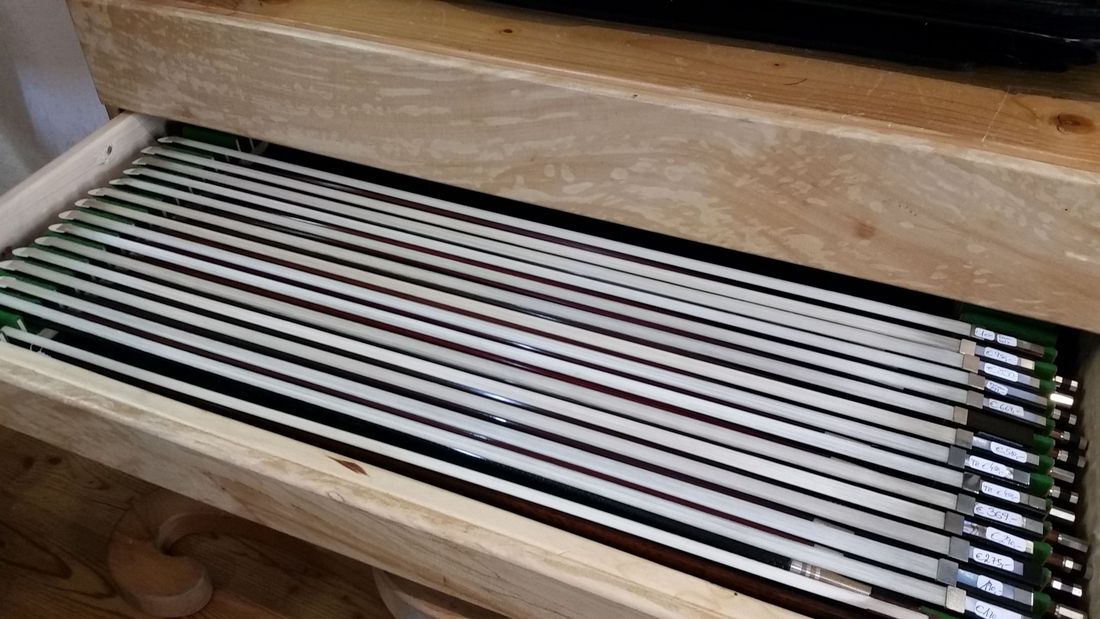 Bows
The bow is as important as the instrument itself and must always fit the player and the instrument, so the choice of bow is an important decision. Besides classical wooden bows there are also carbon bows, these have a very good price/performance ratio and are an interesting option especially for students or young musicians. However, a wooden bow offers more tonal finesse and more charm. The choice of the violin bow is always decisive for the sound of the instrument. Nowadays, however, modern high-quality carbon bows are also played by many professional musicians. In my studio you can try out different bows together with your string instrument. Once you have decided upon a bow, you are welcome to test it in the comfort of your own home for a few days.
Accessories
Your choice of accessories plays a decisive role in the playability and sound characteristics of your instrument. Therefore, a good selection of accessories awaits you in my studio, where the highest quality is a priority.
Cases
A wide range of cases from renowned quality manufacturers.
Strings
An extensive range of finest quality strings from various manufacturers.
Chin rests
Different models of chin rests, which may also be tried-out for a few days.
Shoulder rests
Many different models of shoulder rests can also be borrowed and tried-out.
Spikes
Various high quality spikes made of stainless steel and carbon are available.
Furthermore you will find in my studio fine tuners, tailpieces, mutes, rosin, dumpits, cleaning agents, wolf-eliminators, floor protectors and end pins for celli, covers, straps, instrument stands, small gift articles and if you'd like to give someone a present, I will gladly issue vouchers.